Standardization Workshop - 3 May

PSCE will be organizing a workshop on standardization in the premises of the German Red Cross in Munich on 03 May 2017.

The workshop will be focused on standardization and more specifically, on the importance for EU projects to put more efforts on standardization activities in order to bring innovation adapted to the fast-changing market. Current available solutions will be addressed.

EU projects (EPISECC, BroadMap) will discuss their personal experience with standardization bodies (ETSI, CEN) and explain the outcomes of their work while industrials, researchers, European bodies (DG HOME) and national authorities will have the opportunity to exchange their point of views and discuss future perspectives.

Click here for the preliminary agenda and venue details.If you wish to attend, please confirm your participation via e-mail to This email address is being protected from spambots. You need JavaScript enabled to view it.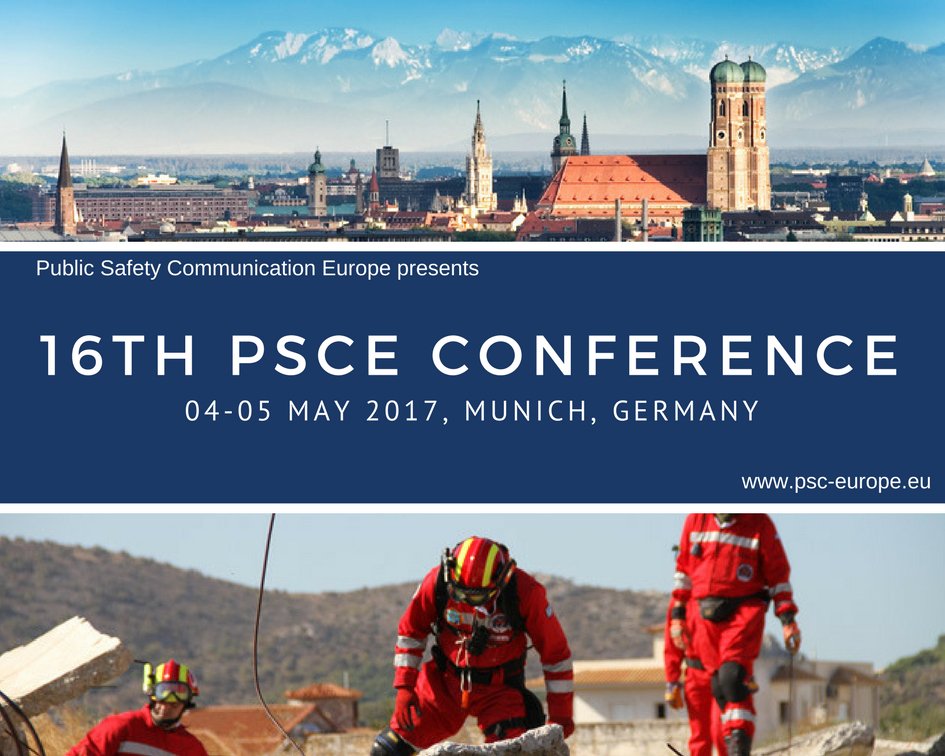 Register to the conference Here !
Key Themes
Key Themes

The key themes of the first PSCE Conference of 2017 are:

Redundancy & Resilience in Public Safety Communications
Future Broadband
Cyber Considerations for Public Safety
Internet of Public Safety Things
Use(s) of UAVs (drones) in Public Safety
Preliminary Programme
Preliminary Programme

Please note that this is a preliminary programme. The programme is subject to change and will be updated as soon as more speakers have confirmed.

4 May 2017

8.30-9.00

Registration

9.00-09.50

General Assembly

Approval of the minutes from the General Assembly held in Athens, Greece
Report of the President and Secretary General
Approval of the accounts for 2016
Election of a Board member

09.50-10.05

Coffee break

10.05-10.15

Opening by PSCE President and welcome by the Bavarian Red Cross

Dr. Johannes Richert (Vice Secretary General/Director International Services/ National Relief Division, German Red Cross – Headquarters, Berlin)

Mr. Leonhard Stärk (Chief Executive Officer CEO, Bavarian Red Cross – Headquarters, München)

10.15-10.30

ELSI Guidelines – Ethical, Legal and Social Implications in PPDR communications – Monika Buscher & Malé Luján Escalante – Lancaster University

Future Broadband

10.30-11.30

10.30-11.30

David Lund: What was BroadMap and what is next?
Antti Kauppinen -

Finland's State Security Network – Finland's perspective on future broadband.

Barbara Held- BDBOS: Results of the Hybrid Study commissoned by TCCA

Questions and Answers

PPDR from the perspective of the German Red Cross

11.30-12.30

11.30-12.00

German Red Cross Overview on Critical Communications – Integrated Command Centre (112) and Cooperation with German Aerospace Center - Uwe Kippnich – Bavarian Red Cross

12.00-12.30

Social Media and voluntary engagement in Disaster Communication from a German Red Cross' perspective – Louisa Schneider - German Red Cross HQ Berlin

12.30-13.30

Lunch break

Internet of Public Safety Things

13.30 - 14.30

13.30-14.00

Potential uses and benefits of 5G & IoT for Public Safety and related challenges – Ali Helenius - AIRBUS

14.00-14.30

IoT for Crisis & Disaster Management: Hot Topics and Future Impact – AIT – Ivan Gojmerac

Cyber security for Public Safety

14.30 –16h45

14.30-15.00

Moving to 4G PMR: what are the cyber threats and how to mitigate them? – Jérôme Brouet - THALES

15.00-15.30

Risk Analysis - Philippe Cotelle - AIRBUS

15.30-16.45

Coffee and Collaboration: Cyber Security of Future EU Interoperable PPDR networks - can we identify the key risks? - David Lund - PSCE

Social Event – Rescue Centre Tour + Networking Dinner

17.00 – 22.45

17.00 - 18.00
18.00 - 20.15
20.15 - 21.45

22.00 - 22.45

Shuttle departs from Leonardo Munich City South Hotel

Visit of the centre

Networking dinner at typical Bavarian "Biergarten"

Back to the Hotel

5 May 2017

Redundancy & Resilience in Public safety Communications

09.00 – 10.00

09.00 – 09.30

Synergies between Public Safety Communications Technologies

Speaker: Rainer Buchmann, Head Integrated Control Center Saarland

09.30 – 10.00

Secure communications and digital transformation for Public Authorities Eric Lebegue – Pascal Beglin - StreamWide

Apps for PPDR-

10h00 – 11h30

10.00-11.30

Apps developed for PPDR organisations

SAIP App -

Alert System & Information on populations

- Delphine Arias-Buffard –DEVERYWARE
Austrian Red Cross App – Andrea Nowak – AIT
WI-MoST app – Abubakr Magzoub - HW Communication
My MDA App - Chaim Rafalowski – Israeli Red Cross

11.30-12.00

Coffee Break

Drones

12.00-13.00

12.00-12.30

UAV`s (drones) in mountain rescue operations. Thomas Griesbeck - Bavarian Mountain rescue (German Red Cross)

12.30-13.00

Gesture-based communication with UAVs. How to communicate with UAVs when data link fails or is not available – Alexander Schelle - Bundeswehr University Munich

13.00 - 14.00

Lunch
Practical Information
Conference Venue

Address

Leonardo Hotel Munich City South,

Hofmannstraße 1, 81379 Munich,

Germany

From Munich Airport
The conference is hosted in the Leonardo Munich City South Hotel located in the south of Munich and reachable from the airport in 45 minutes.
Hotel reservations

Conference attendees receive a special price on rooms: 89€ for a single and 99€ for a double room per night including buffet breakfast and all service charges. To reserve a room please fill out this form and send it to the Leonardo Munich City South Hotel.
Social Event: Rescue Simulation Centre Tour & Networking Dinner

This year the Bavarian Mountain Rescue (Red Cross) will take participants to a guided tour in a rescue simulation centre in the vicinity on Munich. The visit will take place on the 4th of May in the late afternoon and will be followed by a networking dinner in a typical Bavarian "Biergarten".The detailed programme of the event, including the visit and the dinner, is available here !




To know more about the centre please click here (German exclusively)
Sponsors
Swissphone

Total Redundancy - Self-Reliant Alerting and Communication

Swissphone is a leading European provider of alerting and communication solutions for public safety organisations. Founded in 1969, the family owned company has set the standard since in alerting and critical messaging. 250 employees throughout Europe and the US develop, produce and deploy POCSAG networks and pagers, as well as software solutions for resource management and critical messaging.

Swissphone has built 300+ networks worldwide, offering the lowest Total Cost of Ownership compared to other alerting technologies. Swissphone's base stations provide a Mean Time Between Failures (MTBF) of 7.4 years, with many of its historic networks running for 25+ years without any technical issues. Should a customer want to update an old network, all components of the solution are fully backward compatible, allowing gradual, economic upgrades as well as maximum investment protection.

Swissphone's latest ITC5 network generation features up to 9 fallback modes. Its base stations can communicate over the air, independent of any IP backhaul or third-party infrastructure - for example in case of a system failure or power blackout. An extremely fast throughput time minimizes the alerting time. Decentralized alarm triggers alert the entire network from any fire station. The individual base stations can be powered by batteries, solar panels or generators, making the network blackout-proof.

Swissphone's latest s.QUAD pager is by far the most sensitive device in the industry (2 uV/m). It is extremely robust, having passed the 2m drop test on concrete and being water- and dustproof (IP67). Its smart design allows battery autonomy of up to 3 months with one single AA battery and alerts with a sound of > 95 dBA @ 30 cm. A BLE connection to Android and Apple smarthones allows to respond back to the control center, enabling status monitoring and resource management before and after an alert.

For more information, please visit: www.swissphone.com
Motorola Solutions

We are a global communications leader powered by a passion to invent and an unceasing commitment to advance the way the world connects.

Our communication solutions allow people, businesses and governments to be more connected and more mobile.

For more information about our company, our people and our innovations, please visit http: www.motorolasolutions.com
Airbus Defence & Space

Airbus Defence and Space is a word leading company of PMR radio systems, terminals, control room 112 call taking, radio dispatching and applications as well as integration of PMR solutions to public safety and civil customers. Airbus Defence and Space develops, manufactures and distributes to all globally relevant today PMR technologies: TETRA, TETRAPOL and P25 radio infrastructure products as well as radio terminals for TETRA and TETRAPOL.

Airbus Defence and Space has developed TETRAPOL standard, infrastructure and terminal products during the last 20 years. Nationwide TETRAPOL networks are in operation in France, Spain, Switzerland and Check Republic. Airbus Defence and Space provides interfaces from TETRAPOL infrastructure to connect fixed and radio dispatching terminals. Airbus Defence and Space TETRAPOL interfaces can be used to connect a TETRAPOL network to a TETRA network as well as to interface two TETRAPOL networks together with certain set of call functions. Airbus Defence and Space is working for making the European connectivity of the above nationwide networks with those, provided by other manufacturers (Motorola, Selex).

Airbus Defence and Space has also developed over the last 15 years a comprehensive TETRA network for rich set of voice and data for multi-organisation communication, based on the European TETRA standard created by ETSI (European Telecommunication Standard Institute). Airbus Defence and Space TETRA system is the industry leader in large TETRA networks, in functionality and scalability within TETRA systems. Airbus Defence and Space delivers complete TETRA solutions, providing end-to-end solutions from networks, network management, mobile and control room terminals and services. Over the last 10 years Airbus Defence and Space has worked together with TETRA industry and operators to develop the ETSI ISI standard. Airbus Defence and Space has implemented and released the first phase release of this standard, supporting a critical set of TETRA functionalities over the ISI interface. Airbus Defence and Space objective is to deliver full interoperability of TETRA networks to the existing European nationwide networks, delivered by Airbus Defence and Space: Sweden RAKEL, Germany BOSNET, Hungary EDTN, Finland VIRVE, Belgium ASTRID, Estonia EDR.

More information is available at: airbusdefenceandspace.com
THALES

Whenever a critical decision need to be made, Thales has a role to play. Thales helps customers to make the right decisions at the right time and act accordingly in challenging environments.

To help create a safer world, Thales serves five keys sectors :

Aerospace
Space
Ground Transportation
Defence
Security

World-class technology, the combined expertise of 62,000 employees and operations in 56 countries have made Thales a key player in keeping the public safe and secure, guarding vital infrastructure and protecting the national security interests of countries around the globe.

Thales plays an important role in a world that is increasingly mobile, interconnected, interdependent and dangerous.
StreamWIDE

Streamwide is a French company, incorporated in 2001. Specialist in carrier grade value-added services for services providers. We developed a patented software technology. Our company is listed on the Alternext (EURONEXT) stock exchange.

With a comprehensive end to end offer ranging from core network solutions to mobile and web applications, Streamwide assists operators in their daily activities. Streamwide next generation software technology enables legacy system replacement in the areas of business processes, communications, mobile messaging, call completion services, visual voicemail, virtual numbers, social telephony, conferencing and virtual contact centre solutions.

Operating from five continents, Streamwide deploys dedicated teams wherever they are needed to provide professional services, support and assistance to each customer and business partner. This personalized and regional approach allows Streamwide to tailor each solution for the unique needs of its customers including network, infrastructure and cultural requirements.

Streamwide provides telecommunication systems for major public and private organisations who required solutions that public market is not able to provide from technology and security point of view.

For more information, please visite http://www.streamwide.com/
v